Posted on August 20, 2010
Enjoying a nice tropical garden surrounded by the beauty of fish pound or water fountain. The refreshing air and the gurgling sound of the water.  It can be a place that provides relaxing atmosphere for you after the whole busy day. The pond or water fountain can be made in unconventional form or shape. Not only round or square shape, but can be designed around along the inside of the fence, or better known as a ditch pond which similar to the irrigation we saw in the rice field. Other than the house became more secure as this kind of pond either provides a touch of nature in the house.
In addition the beauty of garden design, which is more interesting, is the placement of the pond. The pond is built along the inside of fence. The pond placement is providing hidden impressive. From outside the fence, the pond is invisible as the fence is preventing the people from outside to look it. However, we who are in the inside of the fence are able to enjoy the refreshing atmosphere in the garden.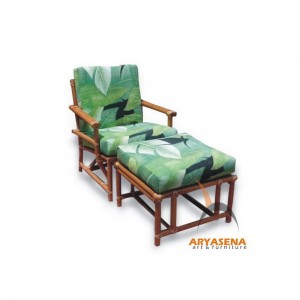 Impression of nature is seen from the use of natural stone materials in the walls and floor of the pond, also the fence. Tropical plants, such as lotus, it seems appropriate to support the existence of the pond. To complement the ditch pond and garden there are also made a pedestrians walk in the garden where we can enjoy the fresh air while walking along. Wicker furniture, such as rattan patio set, which is placed on one of the corners, as the center of activities in the garden. The rattan furniture will accomplish this gorgeous garden.
Though the ponds were built along the fence, the garden still has relieved space and safe even for the kids, they still have room to play and run. Yet with this design of the pool, it support home security. The pond behind the fence is effective in preventing unwanted guests jumped the fence.