Rattan Furniture
Rattan Furniture, For Savvy People Who Value Quality
Possessing the rattan furniture means you can always fully make use of your indoor and outdoor area to be recreational spots at home for your family. If you are big fan of rattan furniture, there are abundant of furniture which is made from nature rattan from nature rattan chair, nature rattan drawer, nature rattan lounger, nature rattan stool, to nature rattan table. Each piece of furniture has long been renowned for its durability and ease of use, while at the same time offering long-term wear and low maintenance cost. Rattan furniture is quite savvy choice for savvy people who value quality above all else.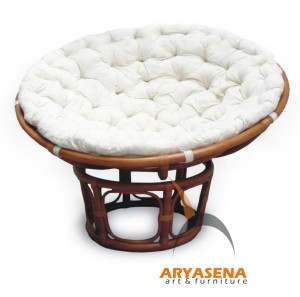 Apart from nature rattan, another natural material which promises enduring quality is kubu grey. This durable and all-weather material can be transformed to myriad shapes of furniture, such as kubu grey basket, kubu grey chair, and kubu grey stool. Placing kubu grey furniture is able to add the more enjoyable sights for the eyes. With its idiosyncratic shape and elegant grey color, the kubu grey makes it best as the main furniture for your indoor or outdoor space, not just as complement or addition. Besides, our furniture is offered at the affordable price you will be glad to hear.
Our artisans also innovatively make some fascinating furniture made from synthetic rattan. All home owners don't need to be hesitated with the quality of the material since the synthetic rattan can be used to make resilient and long-lasting furniture such as synthetic rattan chair and synthetic rattan table. Designed to be important part of your indoor or outdoor living area, our furniture can always be seen as endeavor to generate comfortable and relaxing atmosphere. Finally, by seeing the furniture at a glance you will soon recognize that flawlessness is the aspect that really speaks on it and somehow cannot be described in words.