Posted on September 17, 2012
Mention wicker furniture and often it conjures a tropical image – something an iguana would live under. Sometimes it even means lightweight or temporary, not to be taken seriously. But there is nothing about wicker that is temporary. Wicker is possibly the oldest form of furniture, dating back to the time of the ancient Egyptians. American wicker, which goes back only to the Civil War era, is considered its ultimate interpretation.
But for the last 50 years, wicker has languished in attics, out of sight and out of favor with folks who opted for more modern glass and leather. In the 1960s, wicker emerged briefly. But its stay was short and sweet and was only allowed to rest on porches or in the rooms of little girls. Now wicker is being taken seriously, particularly by collectors of American folk art who say of all the wicker in the world, the best wicker furniture is made in America.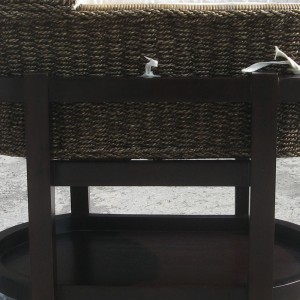 "What is unique about American wicker," says Howard Shea, a designer based in Washington, D.C., "is that it was created over well-made hardwood frames made from native hardwoods such as hickory, oak, maple and ash." What is wicker? According to furniture experts, wicker is not a material as much as a category that includes all woven furniture made from pliable plants such as rattan, willow, cane, sea grass, prairie grass and various vines and roots. Wicker came over on the Mayflower and the story is that the first piece to land in the New World was a wicker baby rocker.
Although settlers brought wicker from Europe with them – yes, because it was lightweight and easy to tote – the wicker industry in the states did not start until the mid-1800s. At that time, rattan, an Oriental palm, was used to pack material brought over on ships and then discarded on the docks. In 1844, a Boston artisan named Cyrus Wakefield discovered that rattan was pliable enough to weave when wet but strong when it dried. By the 1870s, his wicker furniture company employed 1,000 people and the style was all the rage.
Wicker furniture, particularly of the Victorian era, could be simple in design. But the more expensive pieces featured intricate curlicues, spirals and arabesques. Chairs could fan out like the tail of a peacock. Within the rattan or reed were threaded knobs, wooden balls, spools or beads to catch the eye. "As wicker factories evolved," says Shea, "wicker pieces were often cranked out by the hundreds and were supposed to be identical. But bored factory workers started to add their own embellishments and it is these variations that make antique pieces such a delight to find."
Those people who crafted wickerwork were often as imaginative as lacemakers in terms of design. Spiderweb and herringbone caning and chevron patterning are among the most prominent. Wicker was not confined to the likes of porch chairs either. Wicker was used to make clock cases, fire screens, footstools, sewing stands, vanities and baby carriages. As rattan became more difficult and expensive to obtain in the 19th Century, faux wicker was made from paper and manufactured on looms in long sheets.
In searching for antique wicker furniture, you will most likely come across painted wicker. Unpainted wicker is a rarity because wicker was typically shellacked or painted right in the factory. Unpainted wicker is sought after by museums for display purposes. Trying to strip the material itself is time-consuming and can lead to disappointing results. Today's wicker furniture can be a showcase for any home. Craftspeople from the South, in particular, have kept the folk art alive and it is there that you can find new, unpainted wicker made from hickory or ash. "A room of wicker can give a rustic look," says Shea. "Combined with pillows of various colors and fabrics, you have versatility and durability while preserving a craft that is American in its truest sense."