Posted on October 14, 2010
The world of interior has no end of style and design development for so many years. In the early ages, traditional style has covered the area of dwelling. Nevertheless, since 1920's modern architecture design have made its own age of development. In addition, today, the term modern, means 'recent time', attached not only for the architecture but also for the furniture itself. Modern interior style for home is very different from the former style like traditional antique style. Traditional style is dominated the furniture and room design with ornament and decoration. On the other hand, modern style worships functional design for the sake of people mind about actual function matter.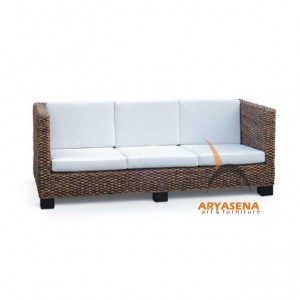 Clean, slender, and organized impressions makes modern interior is quite easy to be applied in living space. There are no more accessories, ornament and decoration to fill up the space in a substance of useless thing. The less is better is included to the furniture inside and outside. The furniture for modern living should pay attention to the nature of modern design itself. Minimalist, simple and less details are the characteristics of the modern furniture. This kind of furniture created to enhance mood of modern style housing.
Evolved in 20th century, modern furniture has lost its genuine meaning from material to the shape or look. At the first time, modern glass, chrome, metal and composite is material for modern furniture. The cold and static impression of it turned many furniture designers to apply modern design from another perspective.
Nowadays, there is other furniture made from natural material like wood furniture, bamboo furniture or rattan furniture that can be said modern furniture from its clean line and minimal design. Even various material of wicker furniture enables to provide modern impression to yours. Without lessening the term of contemporary, those are alternative of people who want to have unique furniture in their surroundings.