The furniture sector in general is one of the focus sectors of the GTZ RED program as identified and defined by a general economic baseline study implemented by RED program. In order to enhance SME growth in this sector through increased competitiveness, GTZ RED in corporation with the regional branch of the Indonesian furniture and handycraft association Surakarta (Asmindo Komda Surakarta) conducted a Design Development Program.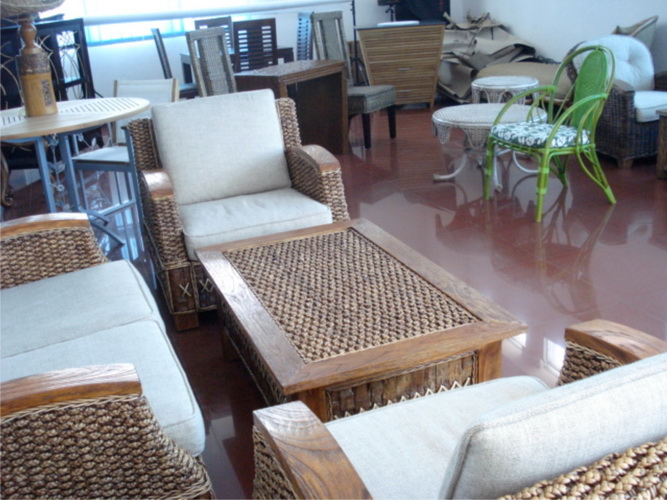 Design Development Program is a service programme. As a mediator and dialogue between industry, designers and university, this program has been designed to increase the competitiveness of the furniture manufacturers in Solo region, Central Java through developing their design competencies.
The outcome of the program shall be enhanced designs of their products, which will lead to more buyer inquiries and to boosted sales figures. It is geared to allow the manufacturers to create confidence within the companies design departments that they are capable of properly interpreting and executing designs for the so called contemporary furniture market 
The program addresses the following problems:
Lack of human resource quality that affected the consistency in quality and delivery, price and the awareness of the producers/contractors concerning the global market competition

Lack of knowledge on international market relations (i.e. understanding market needs and trends)

Lack of innovation and development of product design

 
The program consists of three main components and takes a 5 months for the implementation, started from June until October 2007.
The first component of the program gives inputs about furniture trends and recent developments in attractive market segments. A classroom training on design management was conducted in Solo, Central Java, from 18 – 20 June 2007. 32 designers consists of 19 in-house designers, 3 freelance designers, 6 lecturers from design faculty from local universities, and 4 owners of companies were joint this training. 
The second component consists of customized consultancies (coaching sessions) where the design consultant visit the participating companies one-by-one and work together with them throughout the whole product development process. 15 companies had participated in the coaching sessions and the idea of this coaching was to encourage the companies to set up the product development team was going well, and it was create the awareness of the owner and the staffs in the companies regarding the importance of the teamwork for developing the new products in the company. 
In the third component market testing is done by participating in a trade exhibition where the new prototypes will be displayed and the response of the buyers will be observed and analyzed.  
The program had achieve some quick impressive results. 15 (fifteen) prototypes had been produced and selected by the the organizer to be presented in the fair. Five of them could be catagorized as a product set (product line), and the rest of them are the single products as well as complementary for the product set.  
The information of the prototypes from each companies could be seen in the following pages.